Hair & Body Dispenser (free on loan) plus 2 Cartons X Deb® Hair & Body Wash 6 X 1 Litre Refills Bundle
$225.90
Hair & Body Dispenser
2 Cartons X Deb® Hair & Body Wash 6 X 1 Litre Refills Bundle
Up to 16000 sprays (2 cartons)
Dermatologically Tested The 48hr Single Patch Test results have been validated by a dermatologist to show the product to be 'non-irritant'.
Hair & Body
Made In Australia
1 litre Cartridge
Economical in Use Only a small amount is required to provide effective hair and body cleansing. Up to 1200 wash
Pleasantly refreshing with no lingering scent and appealing to both males and females.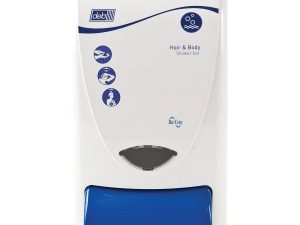 Holds 1 Liter
Free On Loan
The Deb Cleanse Shower 1000 is a highly practical shower gel dispenser for use in any washroom
Deb Cleanse Shower 1000 is made for durability making it perfect for frequent daily use.
Compatible with Deb Hair & Body Wash
In stock (can be backordered)
Available on backorder
Only logged in customers who have purchased this product may leave a review.